Alex Gardner Limited Edition Print
The Hole NYC
---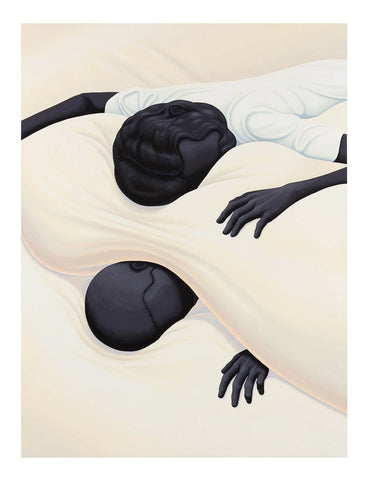 The Hole is proud to announce the first limited edition print by artist Alex Gardner
This superbly detailed giclée print has a semigloss silkscreen overlay and is printed on Hahnemühle paper, one of the finest print papers available
The paper size is 36 x 28.5" and the print itself is 30 x 22.5"
Edition of 100 
Framing Information: White washed wood frame and UV plexi
Unframed prints are slipcased and packaged between 2 sheets of plywood. 
Contact gallery for unique shipping quote if you select unframed or framed print: shop@theholenyc.com
printed in Montreal by Anteism
please note: item ships in 3-4weeks
Alex Gardner (b. 1986, Long Beach CA) is a painter known for his entangled ink-black bodies in luminous domestic interiors. Suggestively posed and draped with dramatically folding white cotton separates, his figures interact in pastel environments where the reflections of color produce subtle gradients and thoughtful tonal shifts. This painting, "Rather Be Sweaty" was exhibited at The Armory Show 2019 and was selected for the artist's first print because of its subtle color and bedroom vibes. 
Related Products
---